Our Services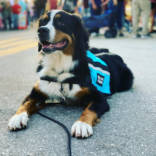 Board and Train (Service Dog)
Service Dog will be completely trained at location of Creating New Tails. There will be approximately 60-70 hours of dog training per month. Length of stay for training is dependent on the dog and the tasks being trained, estimated at 8-12 months. Around-the-clock care will be provided to dog including: daily playtime, exercise, feeding, and grooming. Post graduation, additional training sessions will be provided to ensure proper education and training is continued with the service dog to allow for a seamless transition into home.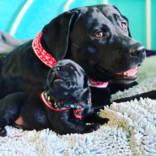 Board and Train (Non-Service Dog)
Training will be provided with your goals in mind, in the same setting as we train our service dog.  Your dog will be provided training for all practical situations, indoors and outdoors.  Length of board and train can vary from 10 days to 28 day, dependent on your dog's needs.   Can provide basic obedience, advance obedience, Canine Good Citizen training, and competitive training, as well.
Our trainer will provide education and training for public access, basic and advanced obedience, Canine Good Citizen training, and service dog commands.  Each training session will be approximately one hour long.  To ensure the owner must practice with their dog in training 4-5 times a week between sessions.
Weekly sessions of training with the owner.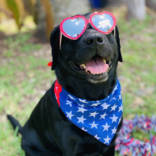 Our professional trainer will transport dog to a private, enclosed lake to provide safe access to the water.  Instruction can be provided for recreational or completive dock diving, swimming lessons.  Transportation and bath are included.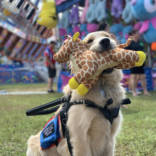 Your dog will not stay in a kennel, he/she will have free roam and will spend the day socializing with other dogs. They will also have access to a large open back yard to spend their day playing and burning off energy.  Dogs will stay over night in a home environment. Monitored socializing with other dogs. Indoor/Outdoor play time. Professional grooming can be provided during this time at an additional cost.